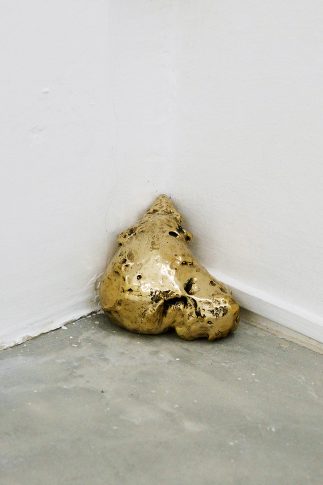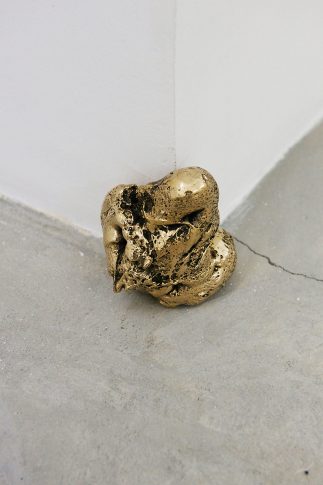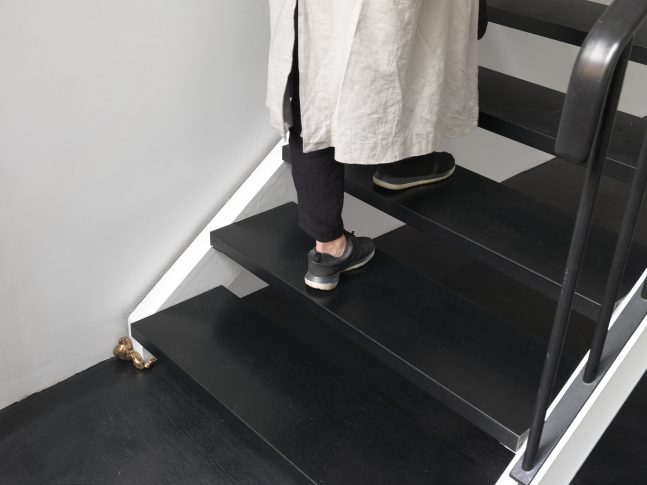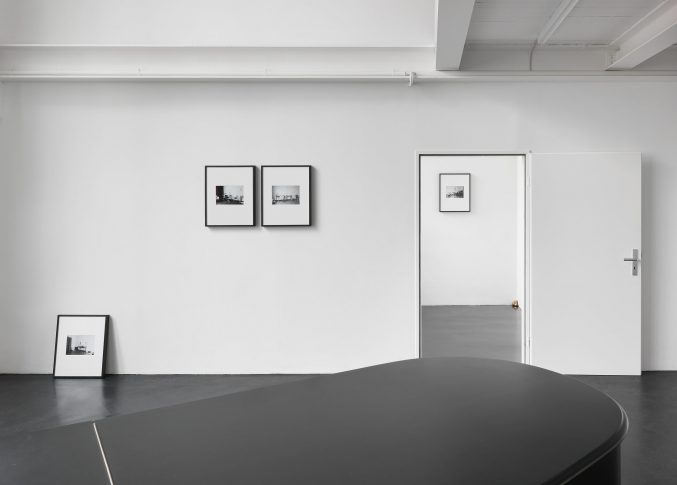 Protocol of a journey and arranged meetings with 14 artists.
14 bronzes
… Platzhalter – created by Bettina Buck as a record, or 'protocol' as she prefers to call it, of a series of conversations she had with artists in four cities during a three-week period. Some were friends, others acquaintances, there were peers and still more who are senior artists with whom she has affinities but had never met. She contacted each, asking permission to meet and discuss while she cast a corner of their studio. Not just any corner, but their thinking corner, the space where they withdraw to consider, contemplate, and come up for breath from all the other wonders and banalities that shape artistic practice. The cast was made with expanding foam that was left to fully expand and set, then cast in bronze. Both are materials she has worked with previously and each is the antithesis of the other. Mutability and the disposable are fixed forever in the material of authority and fixedness. While the foam slowly set, Buck and her host sat and talked, sometimes for hours. Perhaps the conversation flowed but it is easy to imagine times when there was an awkwardness, the cast representing in physical form an intrusion into the most private space of thought. Of course it is also a distraction, an inert form that stands in for Buck's intrusion into another artist's space…
Ben Borthwick
(extract from the text to the exhibition Platzhalter at Monitor Rome in 2010)
More
On Bettina Buck's Platzhalter
Language breaks down. We know this from hieroglyphs that, millennia later, have yet to be decrypted in spite of their evident linguistic structure. The code that gives language meaning is easily lost, leaving us with little more than a series of marks in space each with its own specific referent. Language is an act of magic requiring users to take a leap of faith, accepting the equivalence of unequivalent forms for the purpose of representation. Even pictograms that seek to 'depict' the very thing they signify are heavily mediated and schematised to make them clearly legible. For those of us unfamiliar with the code, lost or unknown languages can be bewildering yet at the same time beautiful. Their visual and aural rhythms are more available to our imaginations, maintaining their illegibility while tantalising us with the unconscious familiarity of language-ness. In some sense, this is a privileged position. If the letters aren't Roman then Western readers cannot even begin to intuite them. It becomes language for language's sake. Received in its most other, written form, language is nothing more than a visual pattern with no starting point for vocalisation.
And so it is with the Platzhalter – created by Bettina Buck as a record, or 'protocol' as she prefers to call it, of a series of conversations she had with artists in four cities during a three-week period. Some were friends, others acquaintances, there were peers and still more who are senior artists with whom she has affinities but had never met. She contacted each, asking permission to meet and discuss while she cast a corner of their studio. Not just any corner, but their thinking corner, the space where they withdraw to consider, contemplate, and come up for breath from all the other wonders and banalities that shape artistic practice. The cast was made with expanding foam that was left to fully expand and set, then cast in bronze. Both are materials she has worked with previously and each is the antithesis of the other. Mutability and the disposable are fixed forever in the material of authority and fixedness. While the foam slowly set, Buck and her host sat and talked, sometimes for hours. Perhaps the conversation flowed but it is easy to imagine times when there was an awkwardness, the cast representing in physical form an intrusion into the most private space of thought. Of course it is also a distraction, an inert form that stands in for Buck's intrusion into another artist's space.
As with any code that reveals its form but obscures specific meaning, the Platzhalter – translated as something like wildcard, placeholder, substitution, replacement, filler text, and so on – have been through a series of transmutations, each of which signifies on its own terms but fails to maintain its integrity of meaning as it passes from one context to the next. This is fine for those in the know, but for the rest of us we are left with a vacuum that can only be filled with the mechanics of meaning rather than the actual referents. As it is, there are four different registers on which these objects signify: as an object constructed from specific materials; as a spatial context where this object was created and where it has a direct reference; as a proxy for the space and time when the object was created; and as a part of an installation in the gallery.
All of these registers inflect each other, and as meaning moves through the circuit of transformation specificity is progressively obscured. The material contradiction of expanding foam cast in bronze is also a spatial contradiction – the foam is only representational at the moment it is sprayed. Thereafter it is progressively mutating, becoming less like the corner it casts and more like an abject bloated distortion. While transformation occurs in each of these steps, a direct impression remains. It is when we realise that the cast echoes back the time and place of the discussion between Buck and her network of peers that the object moves towards abstraction. This is the great leap that language demands regardless of its contingency upon a shared body of pre-existing knowledge. In this respect, it is entirely appropriate that the specificity, privacy and intimacy, represented by each individual corner is made generic by installing all fourteen in a single space. At the starting point of a private conversation an intimate space becomes a flood of voices silently represented by each discrete object. Having your own statements quoted back to you often seems alien and hearing recordings of your own voice even more so. So it is with the casts. How many participants in the conversation would recognise the cast of the most familiar and private corner of their own studio? As with language, ideas and spaces are transformed through their materialisation and it is not necessarily – or necessarily not – the case that the users, including the author, has full control of the meanings created by it.
Ben Borthwick
Ben Borthwick is Director of Artes Mundi. During seven years at Tate Modern (2003-10), he curated exhibitions including Bruce Nauman: Raw Materials, Rodchenko and Popova, The Irresistible Force, and Rosa Barba. In 2008 he co-founded Butcher's Projects which recently completed a collaborative residency with Graham Hudson at King's Cross Central, London.