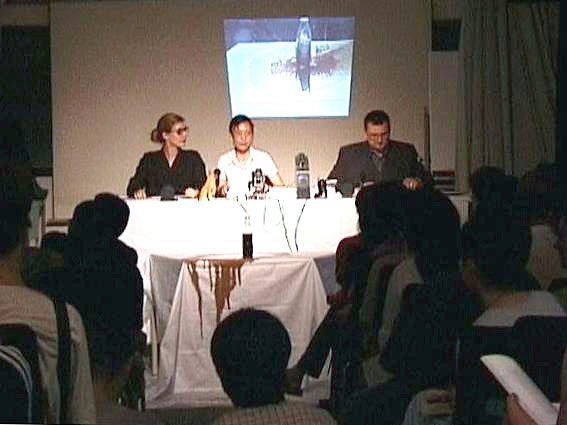 Parteigründung mit Telechinesischem Sojaexperiment, 1999
Gemeinschaftsarbeit von Bettina Buck und Roland Kerstein
Kulturaustausch der Partnerstädte Köln – Peking
More
Sofa99 (society of foreign affairs)
'Telechinese Soya Experiment'
Performance, 1999
Goethe Institute Peking
Bettina Buck, Roland Kerstein, Translator, Soya sauce, tablecloth, porcelain dog, CCTV camera
Duration: 1 hour
Relics: tablecloth with Soya sauce mark, transcription of the spoken part of the performance
The performance sofa99 (society of foreign affairs founded 1999) was collaboration between Bettina Buck und Roland Kerstein happening during a two-month residency in Peking. It took place in the Goethe Institute in Peking and was simultaneous translated from German into Chinese by a professional translator of the Goethe Institute.
The simulation of a political assembly with all the protocol, which comes with this, was the core structure of the performance. The audience was included in the structure and the protocol and contributed to the performance.
During the one-hour duration of the performance a Soya sauce bottle with a little hole at the bottom of it was placed on top of a white tablecloth and dissolved it's content into the tablecloth to create a relic of the time of the performance ('Telechinese Soya Experiment').
The whole performance was transcribed afterwards.
More
Mitschrift der konstituierenden Sitzung von sofa99